The Galway Masters tournament will be held at the Kingfisher Club, NUI Galway Sports Centre, NUIG and at The JES (Colaiste Iognaid) Sports Hall, Sea Road, Galway.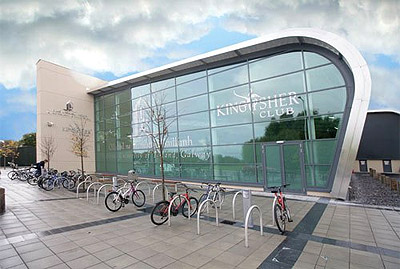 KINGFISHER CLUB – NUIG SPORTS HALL
Phone:  091 570800
Email: nuigalway@kingfisherclub.com
Website: www.kingfisherclub.com
HOW TO GET TO THE KINGFISHER CLUB – NUIG SPORTS HALL
Go across the Quincentenary Bridge in Galway City. You will see the Kingfisher Club to your left as you cross the river. Go to the traffic lights and turn left. There is a Statoil/Topaz petrol station on this corner. Travel for approximately 100m to another set of lights and turn left again. You are now entering the University Campus. Drive for around 200m and turn left into the Kingfisher Club – NUIG Sports Hall.
Parking is to the front, side and rear. Parking is free on Saturdays and Sundays but can be limited depending on events so allow time to find a place. Do not park illegally at NUIG as you could be clamped.
NOTE: A number of games will be held in the JES Sports Hall, Colaiste Iognaid, Sea Road, Galway. Full details of these games will be included in the Game Schedule.
HOW TO GET TO THE JES SPORTS HALL, COLAISTE IOGNAID, SEA ROAD
When you leave the NUIG complex, turn LEFT (opposite direction to Topaz petrol station). Keep going straight, you will go through a couple of sets of traffic lights and UCHG Hospital will be on your right. Continue through the next set of lights at a narrow junction (there is a pharmacy on your left). Continue straight – you will pass St Marys College on the Right. At the next set of traffic lights, turn Left onto the Crescent (R337) and take the 2nd Left onto Sea Road. The JES sports Hall is located on the left, beside the JES Church (travel time circa 10 minutes).
Please note that all day Saturday and on Sunday from 1pm to 6pm Disk Parking operates on the street outside the Jes Sports Hall.

Click here for a larger map.